Feature:
(1)Range of Temperature:0-120oC(30-250F),can according to customers' requirement.
(2)Dial size:2.5", also can do 1.5",2",3",4",5"
(3)Material: SS304 shell
(4)Lens:glass
(5)Probe:Φ12mm, can be as required
(6)Length of probe:52mm, can be as required
(7)Connection:1/2" BSP,NPT,or as required
(8)With brass thermowell
(9)Usage: can be widely used in pipes or instruments to measure temperature,easy to install
(10)OEM supply
Item

LT-B-040

LT-B-063

LT-B-080

LT-B-100

LT-P-040

LT-P-063

Dial size

1.5"

2.5"

3"

4"

1.5"

2.5"

size

40mm

63mm

80mm

100mm

40mm

63mm

scale

℃/°F

℃/°F

℃/°F

℃/°F

℃/°F

℃/°F

Standard

ROHS/CE

ROHS/CE

ROHS/CE

ROHS/CE

ROHS/CE

ROHS/CE

Accuracy

1.0

1.0

1.0

1.0

1.0

1.0

connection

back with thermowell




stem diameter

Ø6.5mm(Ø8mm,Ø10mm for optional)

stem length

85mm, or as required

Inlet thread

1/2"NPT,BSP, as required

Material

full SS 304 case,waterpoof glass lens,brass probe

Temperature Range

0℃--200℃,or as required

Brand

LETIN or OEM

Usage

be widely used in all kinds of pipes or instruments to measure temperature of liquid or gas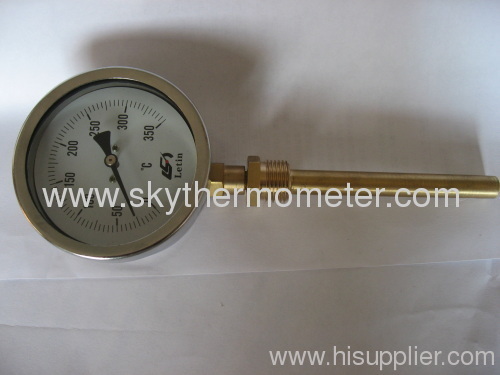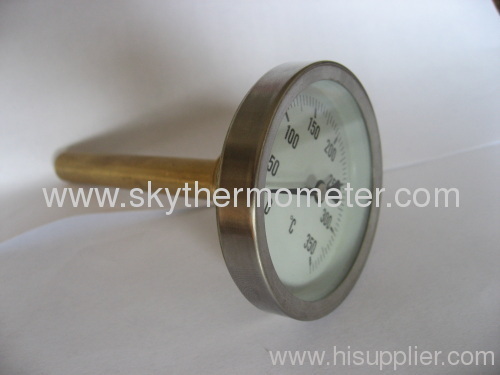 Product catagory:
1. Capillary thermometer(Pressure theory): plastic type, stainless steel type, with flange type.
2. V-shaped thermometer(glass rod): straight type, 90degree angle type, vari-angle type, plastic type, stainless steel type.
3. Bimetal thermometer(Dial& SS case): universal type, radial type, bottom type.
4. Household thermometer: BBQ type, oven type, refrigerator type, digital type, glass type, needle type.
5. Thermomanometer: capillary type, metal type.
6. Accessories: cover, glass rod, connection, spring tube.


Service:

Our service is to supply R&D and OEM according to customers' requirements.
Our advantage is rich experience and mature technology with CE& ROHS certificates.
Our target is to satisfy every customer with best quality and service.
1. Certificates: CE& ROHS, passed ISO9001:2008 International Quality Management System.
2. R&D and OEM service is available.
3. Rich experience and mature technology: cooperating with famous companies in Europe and America.
4. Popular products: hot selling in Europe, America, Africa, Mid-east, Asia etc..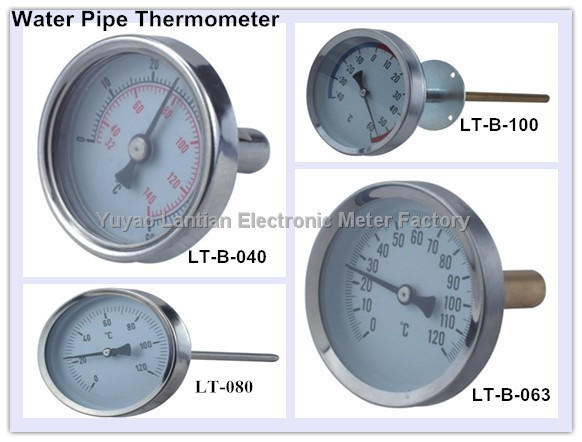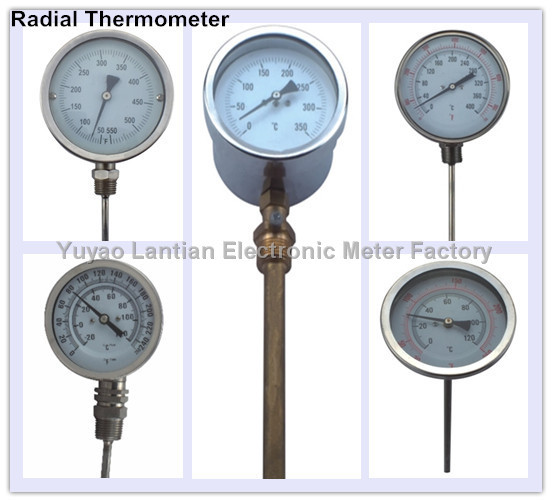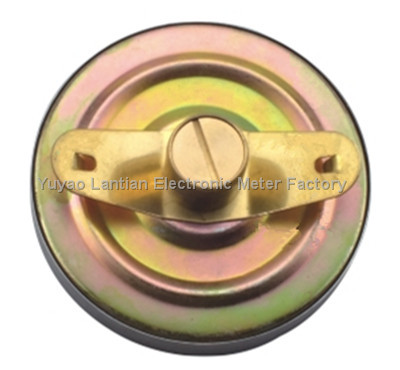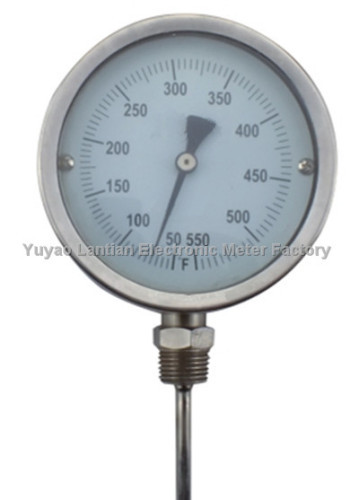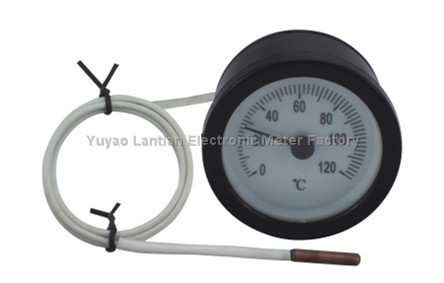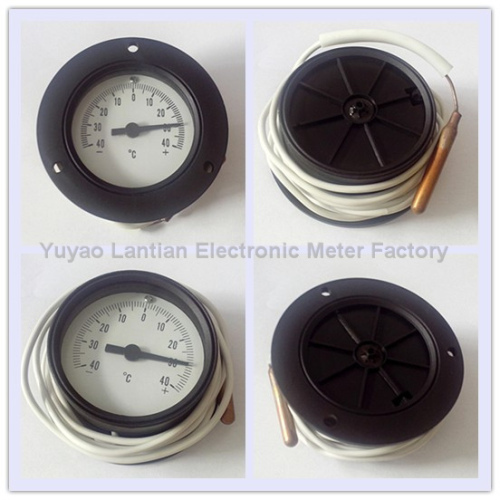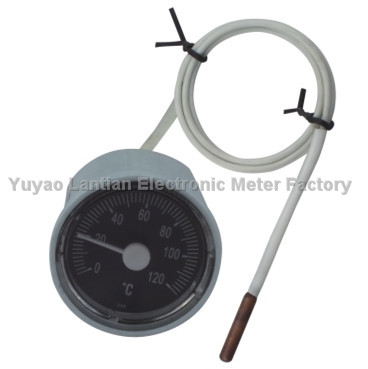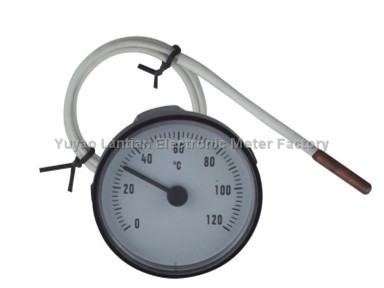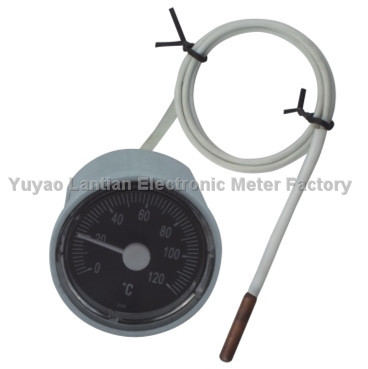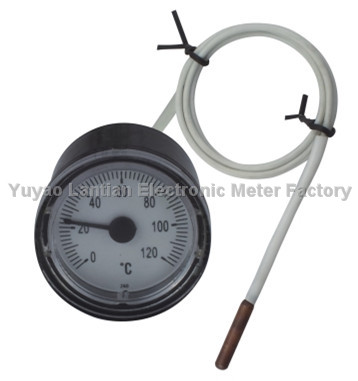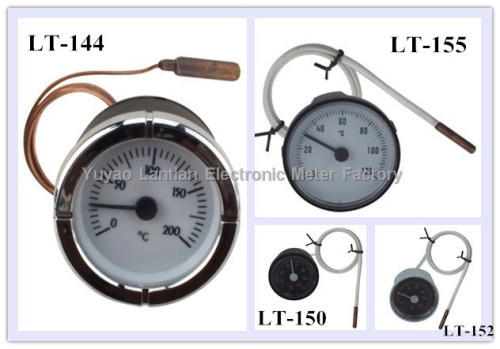 Item
LT-S-063
LT-S-080
LT-S-100
Dial size
2.5"
3"
4"
size
68mm
82mm
108mm
scale
℃/°F
℃/°F
℃/°F
Standard
ROHS/CE
ROHS/CE
ROHS/CE
Accuracy
1.0
1.0
1.0
stem diameter
Ø6.5mm(Ø8mm,Ø10mm for optional)
stem length
63mm, or as required
Inlet thread
1/2"NPT,BSP, as required
Material
full SS 304 case,glass lens
Temperature Range
-20℃--120℃,or as required
Brand
LETIN or OEM
Usage
be widely used in all kinds of pipes or instruments to measure temperature of liquid or gas
Item
LT-U-080
LT-U-100
LT-U-125
Dial size
3"
4"
5"
size
82mm
107mm
130mm
scale
℃/°F
℃/°F
℃/°F
Standard
ROHS/CE
ROHS/CE
ROHS/CE
Accuracy
1.0
1.0
1.0
stem diameter
Ø6mm(Ø8mm,Ø10mm for optional)
stem length
custom-made
Inlet thread
1/2"NPT,BSP, as required
Universal
the dial turn to anywhere by adjusting the connection point,temperature can be adjusted to 0oC.
Material
full SS 304 case,glass lens
Temperature Range
0℃--300℃,or as required
Brand
LETIN or OEM
Usage
widely used in all kinds of industrial, chemic,petrolic fields to measure liquid or gas temperature accurately
Item
LT-A-063
LT-A-080
LT-A-100
LT-A-125
Dial size
2.5"
3"
4"
6"
size
69mm
85mm
108mm
159mm
scale
℃/°F
℃/°F
℃/°F
℃/°F
Standard
ROHS/CE
ROHS/CE
ROHS/CE
ROHS/CE
Accuracy
1.0
1.0
1.0
1.0
stem diameter
Ø6mm(Ø8mm,Ø10mm for optional)
stem length
63mm, or as required
Inlet thread
1/2"NPT,BSP, as required
connection
radial, back or bottom connected
Material
full SS 304 case,glass lens
Temperature Range
0℃--350℃,or as required
Brand
LETIN or OEM
Usage
be widely used in all kinds of instrument in fields of industrial, chemic,petrolic ect, measure liquid,gas, solid temperature directly and accurately